The Broward County Retired Educators' Association welcomes all educators - teachers and administrators, secretaries and registrars, custodians and school bus drivers - anyone who has had a role in the educational process of our youth.
MEMBERSHIP......
The membership year is from July 1 through June 30. Dues are $50.00 per year. BCREA will forward the state dues of $35.00 to FREA, the state organization FREA . Members receive a membership card from FREA and are listed in the BCREA membership directory.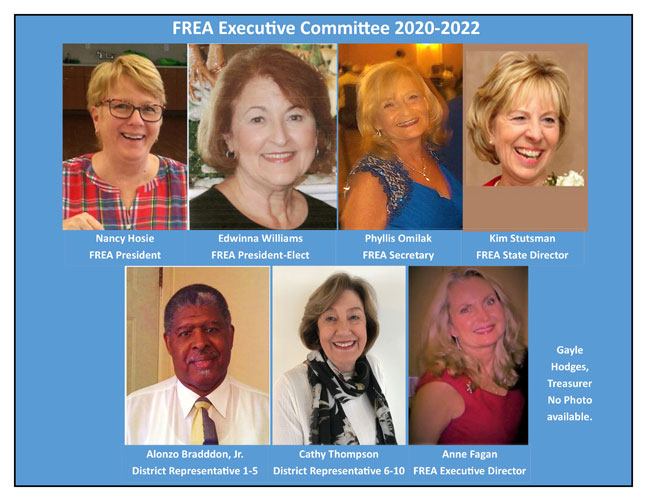 2020-2022 FREA Executive Committee
Top, L-R: - Nancy Hosie, President; Edwinna Williams, President-Elect;Phillis Omilak, Secretary; Kim Stutsman, State Director;
Bottom, L-R: Alonzo Braddon, Jr., Districts 1-5 Representative; Cathy Thompson, Districts 6-10, Representative; Anne Fagan, Executive Director.
MEETINGS.....
Under ordinary circumstances, BCREA meets on the first Thursday of each month from October through May at Deicke Auditorium, 5701 Cypress Road in Plantation. Meetings begin at 11:45 AM and include a potluck lunch. Everyone attending is asked to bring a dish to share.
Currently, BCREA meetings are being held at the Jim Ward Community Center, 301 NW 46 Avenue, Plantation, because Deicke has been taken over by the Helen Hoffman Library because that building is being renovated. Meetings begin at 12:30 pm and we have not yet resumed potluck luncheons - we're doing BYOL - Bring Your Own Lunch. Drinks are being provided.
Last year, due to the pandemic, we met via Zoom. The good part of this was that members who live anywhere in the world are able to attend. We're trying to come up with a way to do a hybrid in-person plus Zoom so those members can continue to be involved.